Bond investors battered by the wildest swings in decades are hunkering down for their next big test: navigating the United States Federal Reserve's response to the mounting financial instability that threatens to derail its fight against inflation.
No matter what the central bank does, investors face more pain after volatility surged to levels not seen since the 2008 financial crisis. The recent plunge in Treasury yields and the abrupt recalibration in Fed rate bets are signalling one more 25 basis-point hike is the most likely scenario at this stage. Now what's getting Wall Street really anxious is what officials will do after that.
Traders currently see the central bank's benchmark ending the year around 3.8 per cent, more than a whole percentage point below the Fed's rate estimate in the December "dot plot" that comes as part of the quarterly economic projections. It's a dovish scenario that could hit a wall Wednesday when the new forecasts come out.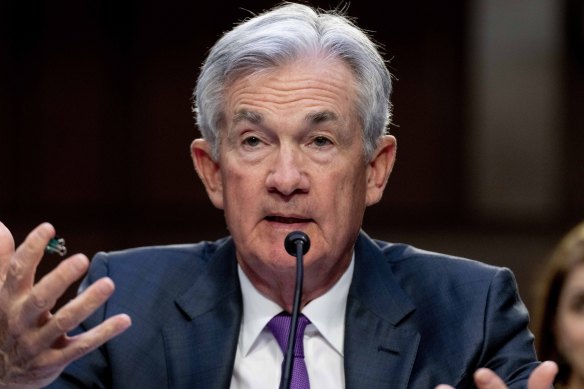 Inflation has remained elevated, and the labor market has shown resilience despite the most-aggressive tightening campaign in decades. Whether the Fed chooses to stay focused on that or prioritise concerns about the health of the financial system could determine the path for rates forward.
"It is two-way risk now, and probably even more than that," said rates market veteran David Robin, a strategist at TJM Institutional in New York. "The only Fed move that is definitely off the table is a 50 basis-point hike. Otherwise, there are multiple policy probabilities and even more reaction-function probabilities. It's going to feel like an eternity until next Wednesday at 2 pm."
Amid all the angst, the widely watched MOVE index, an options-based measure of expected volatility in Treasuries, hit 199 points on Wednesday, having roughly doubled since the end of January. The yield on US two-year notes, normally a low-risk investment, has swung between 3.71 per cent and 4.53 per cent this week, the widest weekly range since September 2008.
The Federal Open Market Committee will raise rates by a quarter point at its March 21-22 meeting from the current 4.5 per cent -4.75 per cent range, according to economists surveyed by Bloomberg News. Fed Chair Jerome Powell has raised the possibility of reverting to bigger moves, meaning a half point or more, if warranted by economic data. But that was before concerns about the banking system sent markets reeling.
Even with the turmoil that has engulfed Credit Suisse Group AG and some American regional lenders, the European Central Bank went ahead with a planned half-point hike on Thursday — but offered very few clues on what may follow.
Now the issue is whether the recent banking woes will constrain the Fed's ability to tackle price gains that, while moderating, remain well above the 2 per cent target.