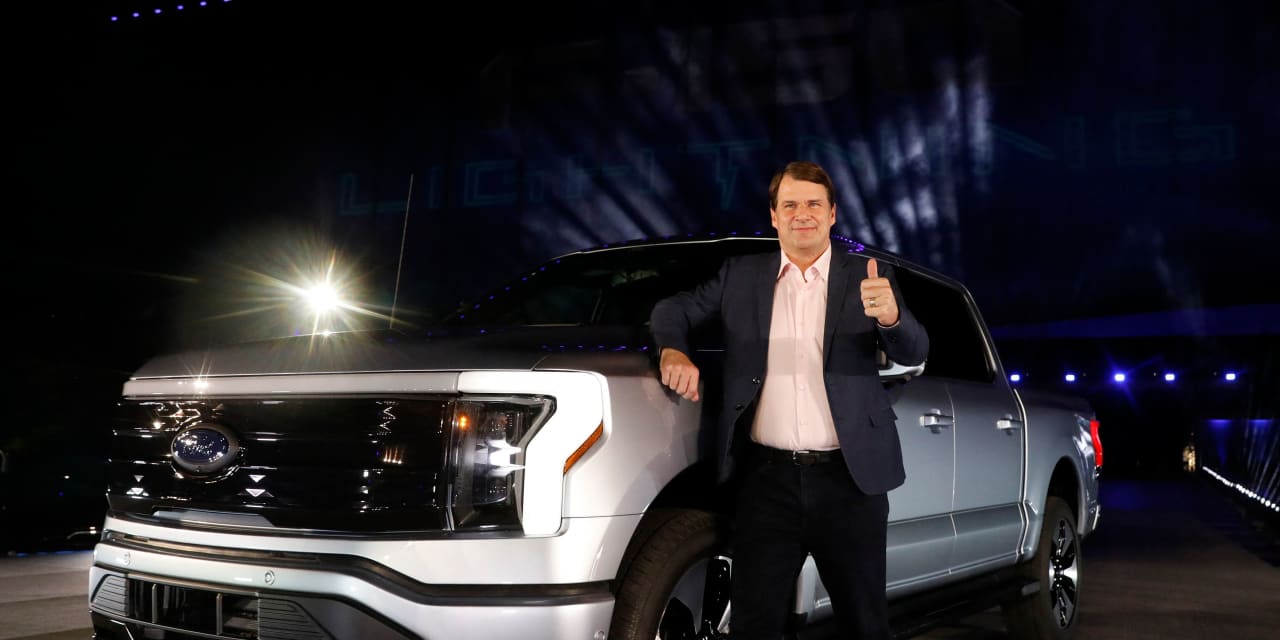 Ford Motor Co. shares jumped more than 7% in midday trading Friday — on track for its best one-day gain since Nov. 10 and the highest close since May 1 — as analysts praised its recent deal with Tesla Inc. involving charging stations.
The late Thursday announcement about a deal to let Ford EV owners use Tesla charging stations was "an obvious big win for Ford," Tom Narayan with RBC Capital said in a note.
Ford
F,
+6.24%
Chief Executive Jim Farley and Tesla
TSLA,
+4.72%
Chief Executive Elon Musk held a Twitter Spaces livestream to reveal the agreement, which would allow Ford owners to access Tesla Superchargers in the U.S. and Canada starting early next year, in addition to Ford's own charging network.
Ford EVs would use an adapter at first, but in a couple of years the EVs would have built-in connectors and no adapters would be needed.
Shares of Tesla gained 4%, while General Motors Co.'s
GM,
+2.72%
stock rose 2%.
"The news is obviously a positive for Ford shares today" and a potential near-term negative for GM and Tesla shares, Narayan said. Ultimately, however, "we think this should be viewed as Tesla playing the long game."
Musk has hinted in the past that the network will eventually be opened up, the analyst said.
"No doubt, Tesla bears will jump on this and say that Tesla is destroying its moat … But we think there are several potential reasons for why Tesla is doing this, and we expect it to open its network eventually to other OEMs, including GM and Stellantis," he said.
Earlier this year, Tesla said it would open up much of its Supercharger network to other automakers by the end of 2024 as part of a Biden administration plan to provide at least 500,000 chargers across the country by 2030.
TPH analyst Jeoffrey Lambujon was skeptical that the news would be more than a short-term boost for Ford stock. Charging network access is sometimes mentioned as a barrier to increasing market share, and there was also the "splashy nature of the Spaces platform," the analyst said.
But "big picture we view the news as neutral all-around for [Ford,] [Tesla] and the charging space," he said.
Ford shares have gained 4% so far this year, compared with an advance of around 9% for the S&P 500 index.
SPX,
+1.30%