Previously, we have mentioned some of the best altcoins to take a stab at. We also bring you more news on the state of the financial markets.
Volatility in financial markets is a topic of keen interest and concern among investors, and it's essential to stay informed about how it can impact various asset classes, including stocks. In recent times, Wall Street has experienced moments of significant volatility, which can have profound effects on investment strategies and portfolio management.
In August 2023, U.S. stock markets faced notable setbacks, marking a departure from the relative stability witnessed earlier in the year. This shift in market sentiment has raised concerns among market participants about how markets will perform in September. Historically, September has been regarded as the worst-performing month on Wall Street, adding to the apprehension.
4 Best Altcoins To Invest In Right Now
Setbacks and depreciation happen in the financial market. The crypto market is not immune to this occurrence. However, financial investments may reduce, but it will not halt completely. Veteran investors know how to stay afloat and, other times, make decisions that profit them in the long run when the coast is clear. 
One of their strategies involves knowing the best coins to invest in. We have curated a list of some of the best altcoins to invest in. This selection of assets comprises cryptos with the potential to appreciate eventually. 
1. Onyxcoin (XCN)
Onyxcoin provides an ecosystem where smart contracts thrive in a manner that's scalable and remarkably user-friendly. This creative, distributed, multi-asset cryptographic ledger serves as the linchpin for seamless network interoperability and data sharing. By adhering to the principle of least authority, Onyxcoin empowers users to maintain control over their assets while ensuring the synchronization of ledgers remains independent.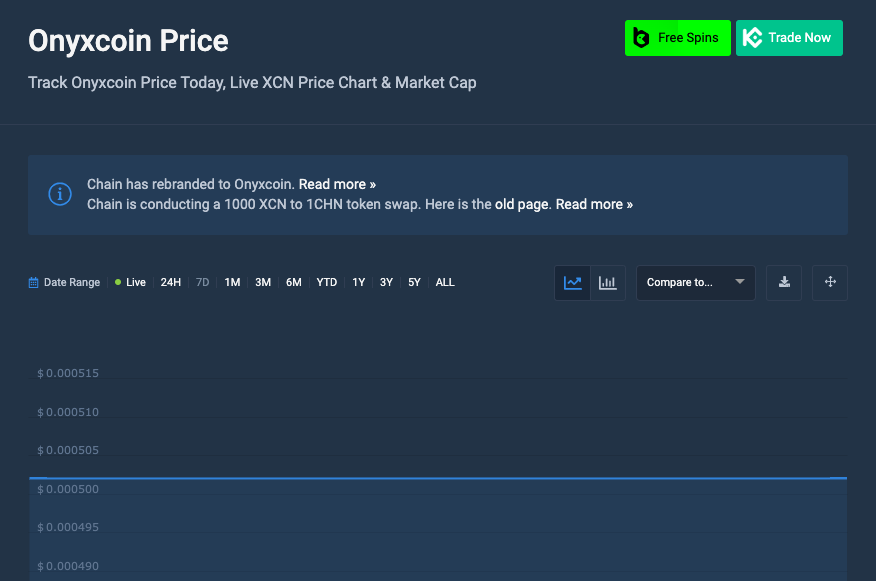 The motivation behind Onyxcoin's inception is rooted in the recognition of the numerous shortcomings of the global financial system. Issues such as time inefficiencies, high costs, lack of transparency, atomicity, security concerns, and settlement finality have plagued traditional financial processes. Asset transfers often involve a convoluted web of intermediaries and redundant ledger entries. Onyxcoin steps forward as a solution, offering a single shared ledger that has the potential to resolve these challenges comprehensively.
At its core, Onyxcoin aspires to revolutionize the decentralized web of mutual obligations, indirect ownership, and routine settlements that have long characterized the financial realm. Through its innovative blockchain network, Onyxcoin envisions a future where financial services are more efficient, inclusive, and accessible.
A development update: We fixed $XCN staking over already staked tokens. It's on the test app https://t.co/J720IKlwZJ, and it will soon go live. pic.twitter.com/SDdsQuJ1HZ

— Alex Onyx (@al_onyxprotocol) September 3, 2023
The journey of Onyxcoin speaks to the essence of blockchain technology – the pursuit of a decentralized, transparent, and efficient financial world. As the world of finance continues to evolve, Onyxcoin remains at the forefront, pioneering a new era of financial services built on the foundation of Web3 blockchain technology.
2. Enjin Coin (ENJ)
One of the most significant innovations brought forth by Enjin is its ability to allow game developers to tokenize in-game items using the Ethereum blockchain. This is achieved through the use of Enjin Coin (ENJ), an ERC-20 token that serves as the bedrock for the digital assets created on its platform. The ingenious aspect of this system is that in-game items can now hold real-world value, facilitating their buying, selling, and trading within and beyond the gaming world.
The journey of Enjin Coin commenced in July 2017 when it was first announced, and it debuted on the Ethereum mainnet in June 2018. ENJ is a digital store of value intricately linked to blockchain assets like non-fungible tokens (NFTs). Each asset minted on the Enjin Platform is imbued with ENJ, effectively locking its value within the NFT and taking it out of circulation.
The Enjin Blockchain is launching in just a few days! Which Enjineer is joining your party?
Post who you got in the comments! 👇

🐸🎨🐻⚒️🐱🏴‍☠️🐺👑🦉📚🌈🎮

*The Enjineer Quests will disappear on… https://t.co/PLBhM4YkuH pic.twitter.com/rVYnWhCue8

— Enjin (@enjin) September 11, 2023
Rooted in the gaming industry since its inception in 2009, Enjin has garnered extensive experience and a user base of 20 million through its gaming community platform, the Enjin Network. However, the pivotal moment arrived in 2017 with the ICO that transformed Enjin into a prominent blockchain ecosystem developer. This transformation gave birth to a suite of software products designed to empower everyone to easily mint, manage, trade, distribute, and integrate blockchain assets.
The Enjin ecosystem operates on a robust on-chain infrastructure, allowing game developers and businesses of all sizes to leverage tokenized digital assets within their user acquisition, retention, engagement, and monetization strategies. At the heart of this ecosystem is Enjin Coin (ENJ), the cryptocurrency that underpins the value of blockchain assets, making Enjin a pivotal player in the convergence of gaming and blockchain technology.
3. Cardano (ADA)
Cardano, often referred to as ADA due to its native cryptocurrency, is a blockchain platform with a distinct mission: to empower changemakers, innovators, and visionaries to drive positive global change. This open-source project envisions a future where power is shifted from unaccountable centralized structures to individuals and the margins of society. In essence, Cardano aims to create a more secure, transparent, and fair world.
Cardano distinguishes itself with a layered blockchain that offers modularity, making it adaptable for various use cases. Its technology facilitates the development of decentralized applications (DApps) and smart contracts. Notably, the Alonzo hard fork, launched in September 2021, brought smart contract functionality to the Cardano blockchain, leading to a surge in its adoption. Within the first 24 hours after the Alonzo upgrade, over 100 smart contracts were deployed, showcasing the platform's potential.
💪 Battle of the Builders – Co-hosted by @CV_Labs 🛠️

Welcoming any early-stage startups using Cardano as an underlying technology.

🚨 Don't miss your chance to find investors and win prizes!

Submit a proposal 👉https://t.co/BAMEzf53N8#CardanoSummit2023 #BattleoftheBuilders pic.twitter.com/pcw1AosVT4

— Cardano Community (@Cardano) September 7, 2023
Cardano has already found compelling applications in various industries. For instance, it's used by agricultural companies to trace fresh produce from the field to the consumer's fork, ensuring food safety and transparency. Additionally, the platform enables educational credentials to be securely stored and verified, and it aids retailers in combating counterfeit goods.
4. APTOS (APT)
Aptos is a Layer 1 Proof-of-Stake (PoS) blockchain platform that stands out for its innovative approach to blockchain technology. It leverages a unique smart contract programming language called Move, which is based on Rust and was independently developed by engineers previously associated with Meta (formerly Facebook) and its Diem blockchain project.
The core vision of Aptos revolves around making web3 and blockchain technology more accessible to mainstream users. It aims to empower a thriving ecosystem of decentralized applications (DApps) that can address real-world problems faced by users.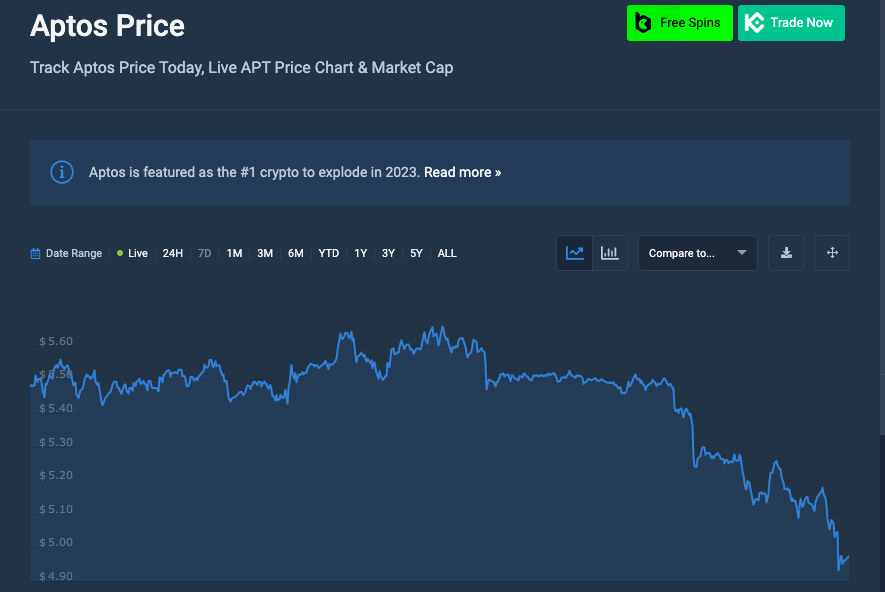 One of Aptos's remarkable features is its potential for scalability. It boasts a theoretical transaction throughput of over 150,000 transactions per second (tps) through parallel execution, which is a crucial factor for supporting high-demand applications and achieving widespread adoption.
Aptos has garnered significant attention and investment in its journey. In March 2022, it raised an impressive $200 million in a seed round, with participation from notable venture capital firm Andreessen Horowitz (a16z) and other prominent crypto investors like Tiger Global and Multicoin Capital. In July of the same year, it secured an additional $150 million in a Series A round, led by Sam Bankman-Fried's FTX Ventures and Jump Crypto.
Today, we're making Aptos history.@AptosLabs is partnering with @Microsoft to unlock Web3 on the @Aptos_Network.

As an @msPartner, our joint suite of AI-supported tools will offer developers and users around the world effortless access to Web3. (1/6) pic.twitter.com/zWsrVWhSql

— Aptos Labs (@AptosLabs) August 9, 2023
Further strengthening its position, Aptos received a strategic investment from Binance Labs, although the specific amount was undisclosed. This investment brought Aptos's valuation to a substantial $4 billion by September 2022.
A significant milestone in Aptos's journey was the announcement of its mainnet launch on October 18, 2022, with the Aptos genesis occurring just days earlier on October 12, 2022. These developments underscore Aptos's ambitions to play a pivotal role in the blockchain ecosystem and deliver on its vision of mainstream blockchain adoption through innovation and scalability.
Read More
Wall Street Memes – Next Big Crypto
Early Access Presale Live Now
Established Community of Stocks & Crypto Traders
Featured on BeInCrypto, Bitcoinist, Yahoo Finance
Rated Best Crypto to Buy Now In Meme Coin Sector
Team Behind OpenSea NFT Collection – Wall St Bulls
Tweets Replied to by Elon Musk