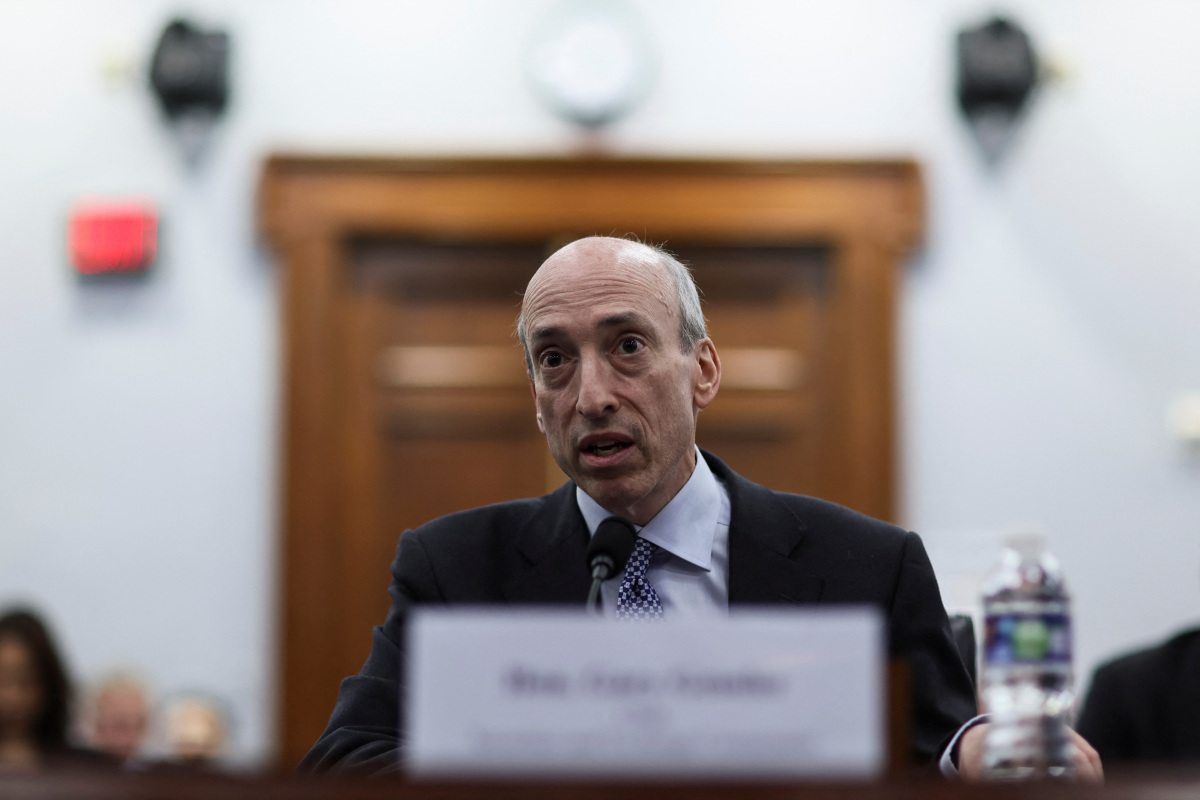 KEY POINTS
Gensler said due to the "non-compliance" in crypto, the commission launched a series of regulatory enforcement
The SEC chair added the financial regulator provided solutions to the security of the cryptocurrency market
Gensler's comments came a month after he said the SEC will now prioritize AI over cryptocurrency
U.S. Securities and Exchange Commission (SEC) Chair Gary Gensler is set to testify before the Capitol Hill on Tuesday, and it seems his stance toward the cryptocurrency industry and crypto assets remains unchanged.
"There is nothing about the crypto asset securities markets that suggests that investors and issuers are less deserving of the protections of our securities laws," Gensler said in written testimony to the Senate Banking Committee.
The SEC chair insisted that since the 1930s securities law expansively defines securities to include investment contracts, most of the crypto assets meet the law's definition, and should therefore fall under the jurisdiction of the commission.
He also suggested that "the vast majority of crypto tokens likely meet the investment contract test."
"Given this industry's wide-ranging non-compliance with the securities laws, it's not surprising that we've seen many problems," the SEC chair said, adding, "It's reminiscent of what we had in the 1920s before the federal securities laws were put in place."
The SEC chairman the commission had launched a series of regulatory enforcement due to the non-compliance.
"Thus, we have brought a number of enforcement actions — some settled, and some in litigation — to hold wrongdoers accountable and promote investor protection," he said.
Moreover, Gensler highlighted the financial regulator already provided solutions to the security of the cryptocurrency market.
"The SEC also has addressed the crypto security markets through rulemaking. We issued a reopening release that reiterated the applicability of existing rules to platforms that trade crypto asset securities, including so-called 'DeFi systems'," the SEC chair shared.
Gensler also mentioned SEC's accomplishments over the past year, claiming the agency was the "cop to beat" when it came to watching out for the consumer's interest.
"The SEC is the cop on the beat watching out for your constituents. In the last year, we've filed approximately 750 enforcement actions and conducted approximately 3,000 examinations of registrants," Genser said, before adding, "We engage with more than 40,000 registrants — asset managers, brokers, dealers, exchanges, fund complexes, public companies, and many more."
"I am proud of this agency. This year we were named the third-best place to work among midsized federal agencies, building on our ranking in the top five for the previous five years," he said.
Last month, Gensler, suggested that the SEC will now prioritize artificial intelligence over cryptocurrency because of the former's "transformative" power.
"There's a 'there' there — we can get to crypto later. We're taking so much of what we humans do on a daily basis and automating it," Gensler said.