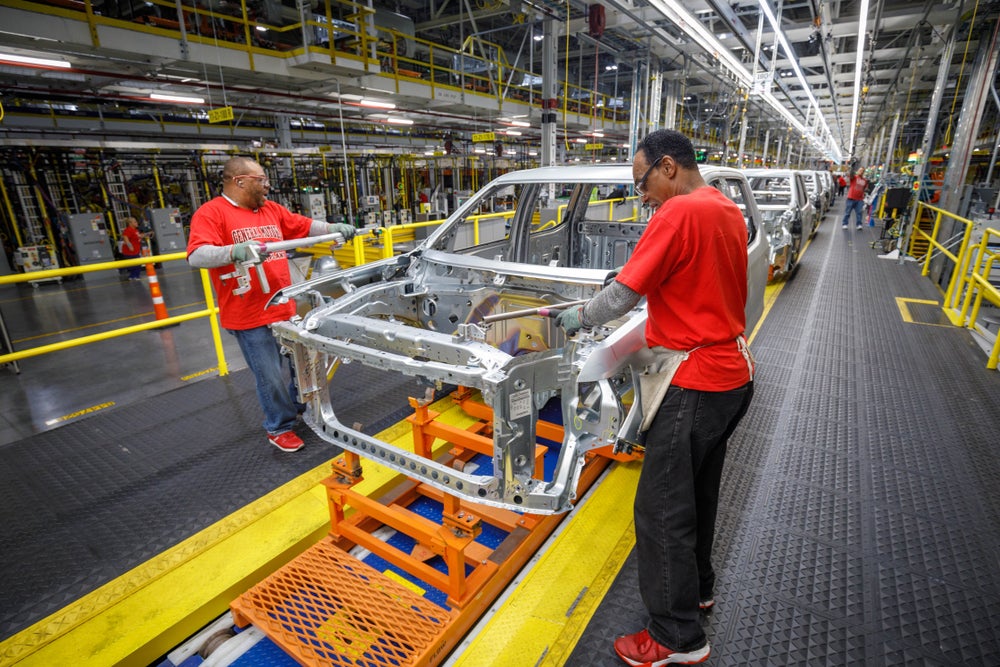 As the U.S. auto industry and broader economy recover from the pandemic and semiconductor shortages, a potential United Auto Workers (UAW) strike could result in economic damage and higher inflation, Bloomberg reported.
A 10-day strike against General Motors Co. GM, Ford Motor Co. F and Stellantis NV STLA could reduce the U.S. gross domestic product by $5.6 billion, potentially pushing the Michigan economy into a recession, according to the Anderson Group, a Michigan-based economic consultancy.
Of the estimated $5.6 billion economic impact, lost worker pay would account for $859 million and lost automaker earnings would be around $989 million, according to Anderson.
The strike could also impact car model availability and prices, which had been gradually decreasing from record levels. If the UAW goes through with its threat to strike all three companies, the impact could be much wider, affecting suppliers, workers, and commodity prices, particularly steel.
UAW President Shawn Fain's demands include a defined-benefit pension, retiree health care, pay raises equal to 46% over four years, a 32-hour work week, reinstatement of cost-of-living allowances and the end of tiered pay. The automakers estimate these demands could increase costs by $80 billion over four years.
Michigan Gov. Gretchen Whitmer expressed her concerns about the negotiations, stating that she is in talks with the leaders of each company and the union to try and avert a strike. However, she added that it is unclear what more she and her state can do.
See Also: UAW President Slams Ford, GM, Stellantis For Delay Tactics In Contract Talks, Raises Political Implications: 'Our Members Are Fired Up'
The potential strike has caused concern within the Biden administration due to the auto industry's significant role in the economies of the Great Lakes and its potential influence on the 2024 election.
The strike is also expected to affect the auto industry's parts network and steel producers. If the strike persists, it could force some steel mill production to idle and push up steel prices in the first half of 2024.
Should the strike end quickly, automakers could suffer minimal harm due to current solid vehicle supply levels.
However, Chris Low, Chief Economist at FHN Financial, noted that if the UAW settles for better wages, the new contract should not significantly impact inflation.
Read Next: Invest in top US properties and earn rental income, benefiting from property appreciation and the booming real estate market thanks to this Bezos-backed startup that let's you become a landlord with just $100.
Photo by John Gress Media Inc on Shutterstock
---
Engineered by Benzinga Neuro, Edited by
Pooja Rajkumari

---
The GPT-4 Benzinga Neuro content generation system exploits the extensive Benzinga Ecosystem, including native data, APIs, and more to create comprehensive and timely stories for you.
Learn more.
---