view original
post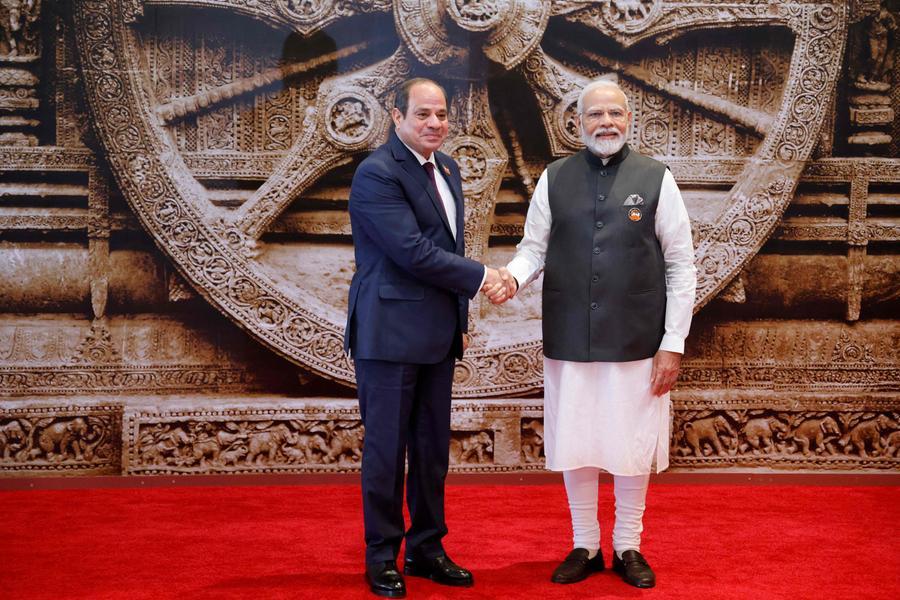 During an interview with Ajit Gupte, the Indian Ambassador to Egypt, Daily News Egypt gained valuable insights into India's perspective on Egypt's invitation to join the BRICS bloc as a member. As one of the founding members of BRICS, India has consistently advocated for reforms in multilateral institutions and has been a champion of the Global South.
The Indian Ambassador stated that India has always been a leading voice for impending reforms in multilateral bodies and a voice for the Global South. Therefore, India welcomes Egypt's invitation to join BRICS as a member. In his address to BRICS, Indian PM Modi expressed full support for the expansion and added that it will make BRICS stronger and more effective.
According to the Ambassador, the PM stated that the decision to expand the grouping will strengthen the belief of many countries in a multipolar world. He also expressed hope that the addition of new members will give new dynamism to BRICS. Regarding the countries being admitted, he remarked that India has deep and historic relations with them.
He added that he also agrees with the sentiments among Egyptian businesses that Egypt's entry to the bloc will facilitate and boost trade, investment, and access to strategic commodities.
Economic relations
Regarding the economic relations between the two countries, the ambassador stated that Egypt has traditionally been one of India's most vital trading partners in Africa. The India-Egypt Bilateral Trade Agreement, based on the Most Favoured Nation clause, has been in effect since March 1978.
The ambassador mentioned that bilateral trade expanded rapidly in fiscal year (FY) 2021-22 and reached $7.26bn, which is a 75% increase compared to FY 2020/21.
According to him, India's exports to Egypt in FY 2021/22 amounted to $3.74bn, showing an 86% increase over the previous year.
According to the Egyptian Central Agency for Public Mobilization and Statistics (CAPMAS), India was Egypt's 6th most important trading partner in FY 2021/22.
Gupte revealed that during FY 2022/23, according to MoC, the bilateral trade has reached $6.06bn, with $4.11bn of exports from India and $1.95bn worth imports to India.
According to the Ambassador, the primary Indian imports from Egypt include mineral oil/petroleum, fertilizers, inorganic chemicals, and cotton. In contrast, the primary items India exports to Egypt are buffalo meat, iron and steel, engineering products, light vehicles, and cotton yarn.
Regarding investment, the Ambassador stated that approximately 50 Indian companies have invested over $3.3bn in various sectors in Egypt. Notable Indian investments in Egypt include TCI Sanmar (with the largest investment of $1.5bn), Alexandria Carbon Black, Kirloskar, Dabur India, FLEX P. FILMS, SCIB Paints, Godrej, Mahindra, and Monginis. In the last six months, Egypt has received Indian investment exceeding 170m.
"Bilateral mechanisms exist to facilitate trade and economic relations between India and Egypt. The mission also assists in organizing various forums for commercial collaboration, including BSM on Agriculture & Processed Foods, Coffee, and the participation of Indian trade promotion bodies and exhibitors in various trade fairs in Egypt. For instance, about 110 companies participated in three trade fairs in Egypt in September 2023. Additionally, there is the Joint Trade Committee (JTC) Meeting, with the last one being held in July 2022. There is also the Joint Business Council (JBC), jointly organized by FICCI and Egyptian Commercial Services, which was last organized in July 2022," the Ambassador explained.
Egypt Joins G20 as Guest Country: Promoting Global South Cooperation and Inclusive Development
India invited Egypt to be the "guest country" during India's presidency of the G20. When asked about the significance of this matter and the importance of Egypt's and President Abdel Fattah Al-Sisi's participation in the upcoming G20 summit, the Ambassador explained that as the President of G20, India is working to promote a universal sense of oneness rooted in our centuries-old values and traditions. This is reflected in our theme for the G20 Presidency, 'One Earth, One Family, One Future'.
"The prevailing global geopolitical and economic conditions call for greater cooperation between countries of the Global South. As prominent voices of the developing world, India and Egypt have immense responsibilities and substantial potential for cooperation. Keeping this in mind, we have invited Egypt as a guest country to the G20 during our ongoing Presidency," he added.
Ambassador Gupte suggested that India and Egypt could cooperate in various fields such as IT, digital economy, agriculture, environment, and health in the future.
India's G20 Agenda: Human-Centric Approach and Depoliticizing Global Supply for a More Inclusive Order
When asked about the most prominent issues on the agenda of the next G20 summit under the Indian presidency, and particularly with regard to the challenges facing developing countries, the Ambassador stated that India's agenda is to adopt a human-centric approach and promote greater inclusion of the Global South, especially Africa, in global affairs. This is aimed at creating a more representative and inclusive order, where every voice is heard.
He emphasized that India, as the President of G20, seeks to depoliticize the global supply of food, fertilizers, and medical products to prevent geopolitical tensions from leading to humanitarian crises.
As a proponent of 'South-South cooperation,' India hosted a special virtual summit, the "Voice of Global South Summit," under the theme "Unity of Voice, Unity of Purpose" on January 12-13, 2023. This summit brought together countries from the Global South to share their perspectives and priorities on a common platform, with more than 120 countries participating. The summit was part of India's consultation process with not only its G20 partners but also its fellow-travelers in the global South to determine its G20 priorities.
In conclusion, India's G20 agenda is aimed at being inclusive, ambitious, action-oriented, and decisive. As Prime Minister Modi has said, "Irrespective of the size of the GDP, every voice matters."
© 2022 Daily News Egypt. Provided by SyndiGate Media Inc. (Syndigate.info).