Newly released crypto assets can offer buyers a higher return on investment (ROI) – today, we review various new coins on the market.
The overall sentiment in the cryptocurrency market is relatively pessimistic, reflected in new cryptocurrency listings trends. The reduced enthusiasm in the market has dramatically reduced the number of crypto projects listed daily. 
New Cryptocurrency Releases, Listings & Presales Today
Nonetheless, a few projects got listed today, and this article explores their unique features and tokenomics. Also, it reviews the Wall Street Memes presale, presenting the overview of its forthcoming listing.
1. Cashtree Token (CTT)
The Cashtree project wants to turn users' screens into cash. According to the project's website, it will allow users to complete missions and earn rewards. It named its innovation mission-to-earn. Users who install the project's app earn CTT, the native cryptocurrency of the platform, after completing the tasks assigned to them. The website further claims that the project has been around since 2015. However, the caveat is that it is limited to specific regions. The details below capture an additional overview.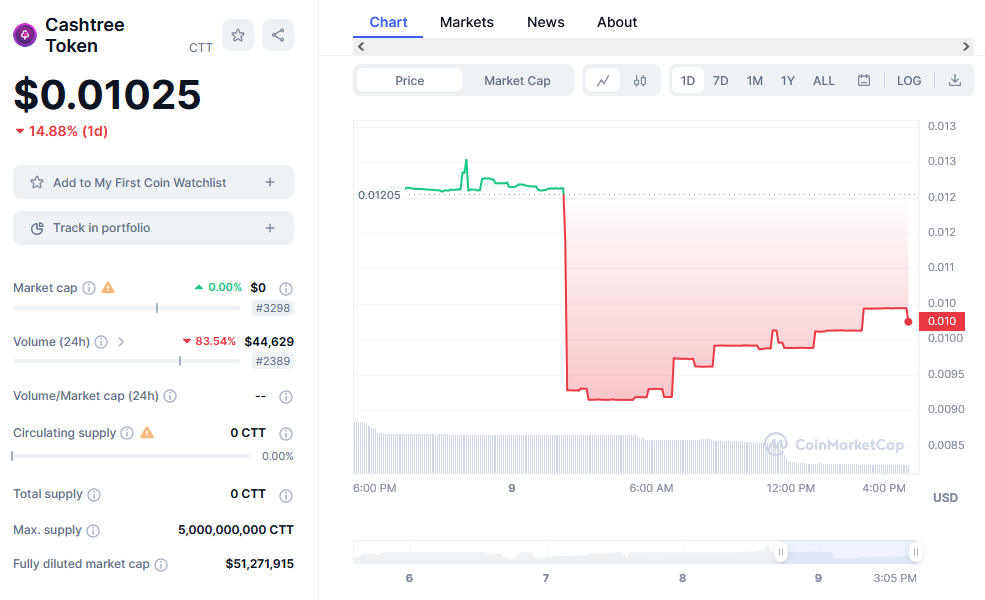 Cashtree is Indonesia's #1 'mission-to-earn' platform, with over 20 million users since 2015. Users can enjoy various benefits and earn rewards by completing tasks and watching ads.   The natively integrated Cashtree Token (CTT) has transitioned into a blockchain-based rewards application, offering multiple uses and utilities and aiming to be a gateway to the crypto world in Indonesia and beyond. CTT will seamlessly onboard users into Web3, where they can enjoy loyalty programs, GameFi, and financial services built on crypto rails. Users can earn CTT by participating in various activities and events within the Cashtree app without incurring costs. Missions in the Cashtree app involve advertising campaign placements from advertisers, implying a natural token demand from advertisers on the Cashtree platform. 
The Cashtree project is built on a Mantle network, and its native crypto is the CTT. The coin has a value of $0.010522 at the time of writing, and in the last 24 hours, over $45,560 worth of CTT exchanged hands in the market. The new token ranks #3325 on CoinMarketCap based on its market cap, and it is said to have a maximum supply of 5 billion tokens. CTT is listed on Bybit, FusionX v3, and FusionX v2. 
2. Parallax (PLX)
Parallax is a new crypto project focused on providing liquidity infrastructure to devs and projects in the crypto industry. Its website claims it focuses on helping individuals, DAOs, and other protocols generate yields on Ethereum. It further states that the project is built around 4 core products via the Orbital-Yield Optimizer, the Andromeda-Multivariate Yield, Supernova-Powering LSDfi, and the Black Hole-Liquidity Marketplace. The project's document reveals that the project is the brainchild of devs from various countries worldwide. Additional details are featured below. 
Parallax is building yield and liquidity infrastructure for individuals, DAOs, and protocols. Our primary focus is LSD yield products, including vanilla LSDs, LSD stablecoins, and LSD vaults. Our liquidity and yield product stack: 1. Orbital – Yield Optimizer – Parallax utilizes an advanced auto-compounding function to generate higher returns for LP tokens and LSD stablecoins. 2. Andromeda – Multivariate Yield – Choose from our Bluechip Arbitrum or Degen vaults 3. Supernova – Powering LSDfi – Deposit any LSD asset and earn boosted yield. 4. Black Hole – Liquidity Marketplace – Our POL marketplace allows anyone to create a liquidity bond sale. $PLX is the native token for all Parallax Finance products and will be primarily used for the following purposes: ve8020 model.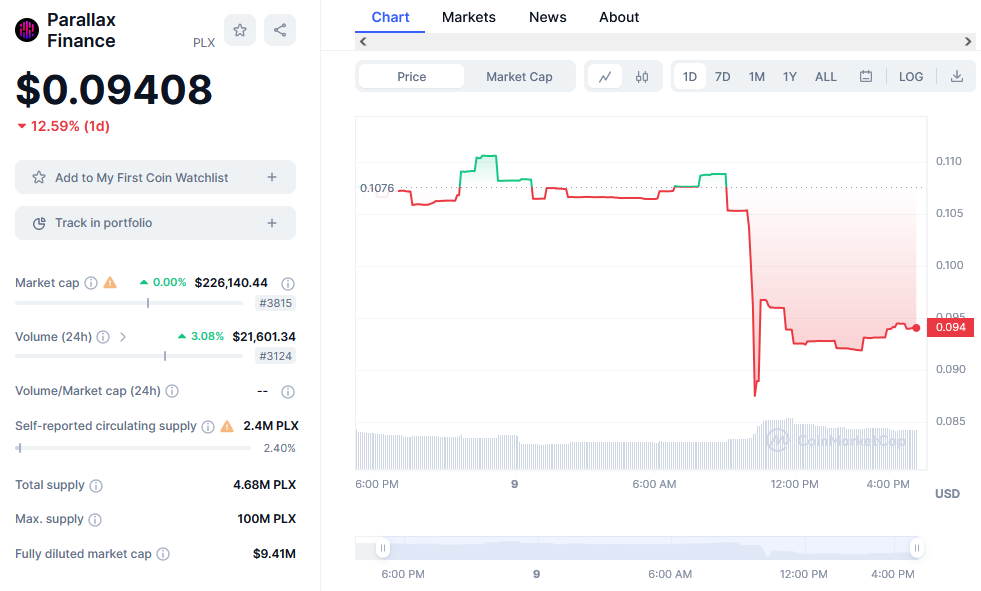 The Parallax project is built on Arbitrum; its native token is the PLX token. Today, PLX is valued at $0.097703 with a 24-hour trading volume of $22,160.18. It has a market cap of $234,776, computed from its current price. Hence, the new token ranks #3795 on CoinMarketCap. Furthermore, PLX's circulating and maximum supply are reported to have a value of 100 million. Information about the token's listings is currently unavailable. 
3. Aardvark (ARDVRK)
Aardvark is a memecoin that draws inspiration from the South African ground pig. The token hopes to assemble a community of people not ashamed to be associated with shitcoin. Its claims state that the platform views the ants, which Aardvarks consume, as an archetype of fudders, jeets, and nonbelievers. Hence, the mission of the community is to eat and make them feel sorry for not being a part of the vision. The project is summarized as follows. 
Aardvark is a community-driven meme cryptocurrency on the Ethereum blockchain, With Ownership Renounced and Burned Liquidity. 2% tax to buyers/sellers.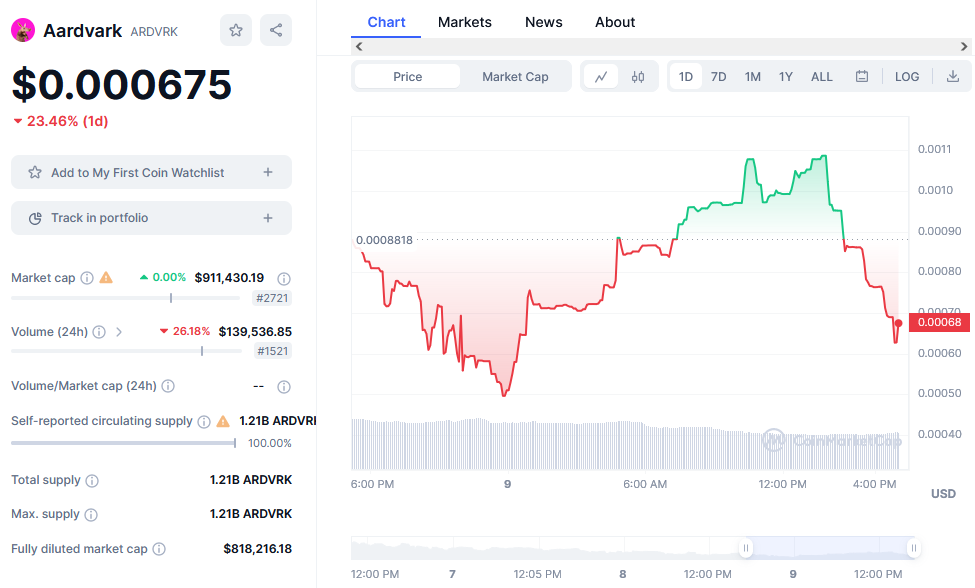 Aardvark is built on the Ethereum network with the AARDVARK token as its native token. The new cryptocurrency currently has a price of $0.000757, and in the last 24 hours, about $134,291 worth of the token moved across the market. Its market cap of $954,175 places the new token at #2726 ranking on CoinMarketCap, with a live market cap unavailable. The circulating supply is not available, and a max. supply of 1,212,091,913 AARDVARK coins. However, there's no mention of its circulating supply and listings. 
4. Shiberium Token (SHIBARIUM)
Borrowing ideas from the newly launched Shibarium, the Shibarium Token is a memecoin project that claims it's working towards creating scalability solutions through hybrid plasma and PoS side chains. While the project shares a name with the Shibarium platform, it differs entirely from the original Sibarium, which uses BONE as its native token.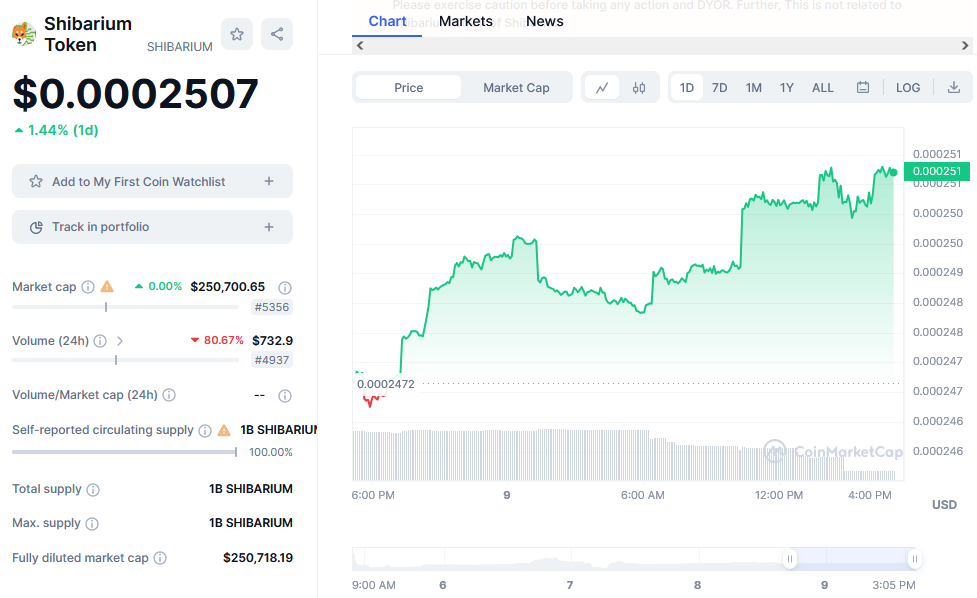 The Shiberium Token project is built on the Ethereum platform, and its native token is the SHIBARIUM. The token has a price of $0.000251 today and a 24-hour trading volume of $732. Likewise, its market cap is $250,485, ranking it #5358 on CoinMarketCap. The new cryptocurrency is listed on Uniswap v3 (Ethereum) and has a maximum supply of 1 billion tokens. 
5. Wall Street Memes (WSM) 
It's now 17 days to the WSM listing, and the plans are in progress. However, its presale is not over yet. Investors can still head to the presale page and scoop up some WSM in anticipation of the listing. 
Interestingly, the Wall Street Memes team intends to list the token on multiple tier 1 exchanges, thus increasing the chance of reaching an impressive market cap from day 1. 
[embedded content]
While the community awaits the WSM listing, the social media investors can engage with the team on social media. One of the thrills of Wall Street Memes is that there are no dull moments on the platform's handles. It has loads of fun and exciting content. 
Follow me for more trading advice, we make mistakes so you don't have to pic.twitter.com/Ri8PiOrpNj

— Wall Street Memes (@wallstmemes) September 9, 2023
At the time of writing, degens and nonconformists can become a part of the movement by owning WSM for as low as $0.0337. The price will only last for 17 days.
Visit Wall Street Memes Presale. 
Read More
Wall Street Memes – Next Big Crypto
Early Access Presale Live Now
Established Community of Stocks & Crypto Traders
Featured on BeInCrypto, Bitcoinist, Yahoo Finance
Rated Best Crypto to Buy Now In Meme Coin Sector
Team Behind OpenSea NFT Collection – Wall St Bulls
Tweets Replied to by Elon Musk