view original
post
The global market capitalization, Monday, experienced a marginal 0.40% decrease over the last 24 hours, bringing it to $1.03 trillion. The market capitalization has dropped lower since our previous report. Despite this minor setback, the crypto market exhibits resilience and dynamism.
Over the same 24-hour period, the total trading volume in the crypto market has seen a significant surge, now standing at an impressive $19.96 billion. This marks a substantial 33.45% increase in trading activity, indicating heightened investor interest and participation.
Decentralized Finance remains a notable segment of the crypto market, contributing significantly to the trading volume. The DeFi trading volume is currently $1.61 billion, constituting 8.07% of the total crypto market 24-hour trading volume. The continued growth and innovation in the DeFi sector demonstrate its growing influence within the broader cryptocurrency landscape.
Stablecoins also command a substantial share of the trading volume. The total trading volume for stablecoins has reached $18.11 billion, representing a dominant 90.75% of the overall crypto market 24-hour trading volume. 
Bitcoin maintains its position as a significant player in the market. Its market dominance currently stands at 48.62%, reflecting a slight increase of 0.08% for the day. This uptick suggests that Bitcoin exerts influence and maintains its status as a benchmark for the broader cryptocurrency market.
Next Cryptocurrency to Explode
As the crypto market remains dynamic and ever-changing, investors and enthusiasts closely monitor these indicators for insights into the evolving landscape of digital assets. The crypto community anticipates further developments and shifts in the market as it continues to mature and adapt to new trends and technologies. Note that global stocks have declined due to Chinese stimulus inconsistencies.
1. Wall Street Memes (WSM)
The Wall Street Memes (WSM) presale is reaching its culmination, already amassing over $25 million in funds. However, there's still an opportunity to seize your portion of the action at the early-bird rate of just $0.0337 per token.
Wall Street Memes is on a mission to "monetize the meme revolution" that gained momentum during the unforgettable GameStop saga of 2021. The indomitable spirit of the Wall Street Bets community persists and has found a lasting home within the WSM ecosystem.
When you're so rich you don't pay for anything pic.twitter.com/RVWMuI3H8b

— Wall Street Memes (@wallstmemes) September 10, 2023
While meme coins have faced their fair share of criticism for their perceived lack of utility, the statistics tell a different story. Meme coins have consistently emerged as top performers in every crypto bull market, from Dogecoin (DOGE) and Shiba Inu (SHIB) in 2021 to the Pepe meme coin in 2023.
The enthusiasm surrounding the Pepe rally propelled numerous meme enthusiasts into the exclusive millionaire club. The WSM community is striving to replicate that success.
Wall Street Memes (WSM) is not just another run-of-the-mill meme coin; it symbolizes a movement. Its total supply of 2 billion tokens will be entirely tradeable and held by the community.
[embedded content]
The token allocation has been meticulously planned: 50% for presale investors, 30% for community rewards, and 20% to ensure liquidity once it is listed.
WSM enters the market with a robust community of over a million followers across various social platforms.
With Wall Street Memes, you're not merely purchasing a cryptocurrency; you're investing in a vibrant, meme-driven ecosystem that encapsulates the spirit of a community determined to make its mark in the crypto world.
Visit Wall Street Memes.
2. Stellar (XLM)
Stellar's native cryptocurrency, XLM, has shone, demonstrating an impressive 3.25% increase over the last 24 hours. This achievement stands out as a beacon of strength amidst most digital assets' recent struggles.
As of the time of writing, XLM has reached a price of $0.13, according to CoinMarketCap. Among the top 100 cryptocurrencies based on market capitalization, Stellar emerges as the most significant daily gainer. Over the past seven days, XLM has witnessed a remarkable surge of 15.56%, a noteworthy feat for the next cryptocurrency to explode in a market where many cryptocurrencies have experienced only marginal gains during the same period.
The upward trajectory for XLM initiated on September 2, coinciding with the announcement from the Stellar blockchain hinting at "something cool" on the horizon. This announcement led to a substantial increase in the price of Stellar's XLM token, a development that defied the lackluster performance seen in most other altcoins.
This resurgence in XLM's price commenced after a bounce-back from the $0.111 support level, marking its lowest point in the past eight weeks. The revelation of an impending announcement rejuvenates bullish sentiment in the community.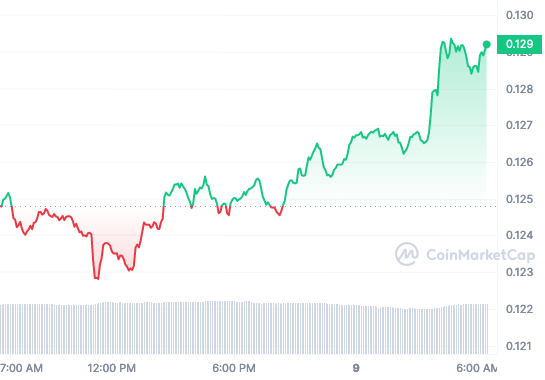 From September 2 to now, XLM has closed in the green for six out of seven days. Notably, if today's close remains positive, it will signify the fourth consecutive day of gains for XLM since September 6.
Stellar generated excitement with a tweet on September 2, hinting at "something cool" and an "exciting change" on its network. This anticipation was further heightened on September 7, when Stellar alluded to "change in the air." The fact that Stellar became a minority investor in MoneyGram in August added to the intrigue surrounding the impending announcement.
The much-anticipated announcement from Stellar is scheduled for September 12, just three days away, and the crypto community is eagerly awaiting what this payment network will unveil. Nevertheless, the bullish momentum might face resistance at the $0.133 level, potentially challenging further price increases. Conversely, support can be found at $0.111 should profit-taking lead to a price correction.
3. Render (RNDR)
Over the past seven days, the RNDR token has shown remarkable strength, with an impressive surge of 8.64%. Trading volume in the last 24 hours has experienced an uptick of 31.60%. This brings the asset's price to $1.52 at the time of this report.
Despite this weekly surge, the RNDR token has encountered an 11.22% decline in a month and has slipped by 25.83% over the past three months. The MACD line remains positioned below the signal line, but the histogram suggests a potential increase in buyer activity.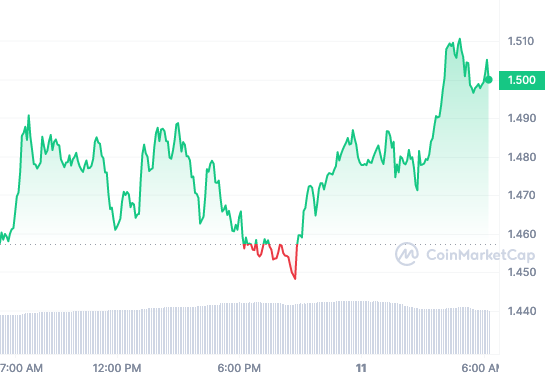 The Relative Strength Index line closely approaches the signal line, while the RSI-MA line resides beneath the signal line, indicating the potential for further price escalation. The RNDR token's 24-hour trading range fluctuates between $1.389000 and $1.521000.
Market analysts attribute the recent price surge of the RNDR token to an update within the Render Network. At the time of writing, the RNDR token was observed to be trading below the 20-day Exponential Moving Average (EMA) but remained above the 50-day, 100-day, and 200-day EMAs.
4. Synthetix (SNX)
Synthetix (SNX) recently made a significant bullish move, recording a 12.5% increase in its value on September 4. This surge in price has garnered attention, and on-chain activity tracking platform Lookonchain has shed light on the latest developments involving Synthetix (SNX) outflows from major cryptocurrency exchanges.
According to data provided by Lookonchain, an anonymous entity reportedly transferred more than 3 million Synthetix (SNX) tokens from the renowned crypto exchange Binance to a relatively new wallet on September 4. The total value of the Synthetix (SNX) tokens moved amounted to $7.7 million.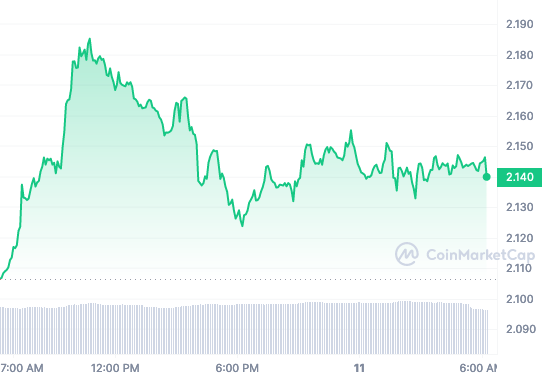 In cryptocurrency markets, the movement of assets away from exchanges, known as exchange outflows, typically indicates a strategic decision by crypto users to assume custody of their holdings. This action signifies a bullish sentiment, indicating a growing presence of optimistic traders in the market.
As a direct consequence of this tactical maneuver, Synthetix (SNX) experienced an impressive growth rate of 1.55% on September 4. This price increase elevated the value of Synthetix (SNX) from $1.90 to $1.93. Synthetix (SNX) is trading at $2.214, reflecting a modest 0.03% uptick in value.
Synthetix (SNX) also observed a remarkable surge in trading volume on September 4, experiencing a staggering 250% increase, soaring from $38.4 million to $96 million. Analysts now anticipate that this positive momentum will set the stage for a bullish trend, solidifying SNX's position as one of the top cryptocurrencies to consider for investment.
Read More
Wall Street Memes – Next Big Crypto
Early Access Presale Live Now
Established Community of Stocks & Crypto Traders
Featured on BeInCrypto, Bitcoinist, Yahoo Finance
Rated Best Crypto to Buy Now In Meme Coin Sector
Team Behind OpenSea NFT Collection – Wall St Bulls
Tweets Replied to by Elon Musk