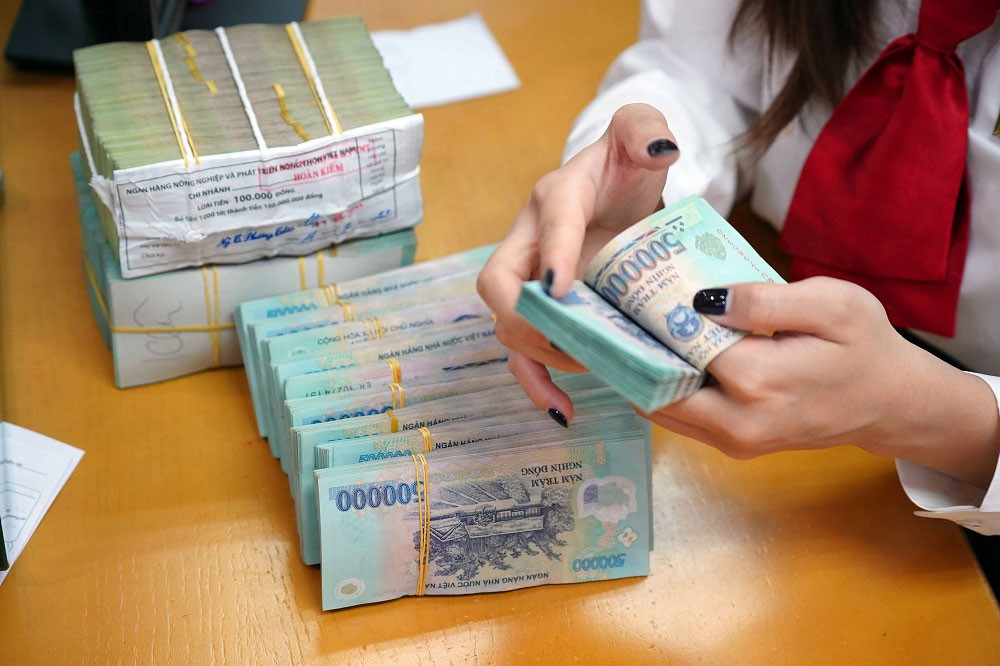 VIBBank, owned by Dang Khac Vy, completed the list of shareholders on February 10 for 2022 dividends paid in cash. 
The bank plans to advance VND2.1 trillion to pay dividends at the rate of 10 percent after many years of not paying dividends in cash. The money will be paid by early March. 
The bank predicted post-tax profit of VND8.4 trillion in 2022 and dividends of 28 percent.
Like VIBBank, many banks have decided to stop not paying dividends in cash because their profits in 2022 were very high, up to trillions of dong.
The State Bank of Vietnam (SBV) no longer requires some commercial banks to retain profits to raise charter capital and reserve resources for bad debt settlement to ensure financial health. However, this loosening is applied only to highly ranked banks.
The list of banks planning to pay dividends in cash besides VIB includes VPBank, TPBank and ACB.
TPBank owned by Do Minh Phu announced the shareholder list on February 17 on paying dividends in cash in 2023 with a predicted rate of 25 percent, or VND2,500 per share. 
The payment is expected to be made in Q1 2023. The bank reported a pre-tax profit increase of 30 percent in 2022, reaching VND7.9 trillion.
VPBank owned by Ngo Chi Dung plans to pay dividends in cash for the next five years, about 30 percent of post-tax profit annually. ACB has also designed a plan to pay 10 percent dividends in cash, if it gets SBV's approval. 
Analysts say many banks want to pay dividends in cash because they had a prosperous 2022. Vietcombank made the highest profit in the banking sector with pre-tax profit of VND37.4 trillion, or $1.6 billion, up by 36 percent over 2021.
The bank has not made an announcement about dividend payments, but its share prices reached a record high on February 6.
VietinBank has reported a pre-tax profit of VND21 trillion; BIDV VND23 trillion, up by 70 percent; Techcombank VND25.6 trillion ($1.1 billion); and MBBank VND22.7 trillion, up by 38 percent. ACB, VIBank and HDBank are also among the banks with profits of over VND10 trillion.
Meanwhile, Eximbank reported a three-fold increase in profit, to VND3.71 trillion.
Businesses promise high dividends
In addition to banks, enterprises in other business fields have reported breakthroughs in profits and high dividends, including fertilizer manufacturing and transportation.
PetroVietnam Fertilizer and Chemicals Corporation (PVFCCo) released a resolution on advancing 2022 dividends in the first stage with the rate of 40 percent (shareholders will receive VND4,000 for each share they hold). As such, the company will spend VND1.6 trillion on the dividend payment stage.
PVFCCo made a net profit of VND5.6 trillion in 2022, an increase of 45 percent over 2021, a record-high profit for the company.
In late 2022, many enterprises were generous in paying dividends for 2022 with high ratios.
Vietnam Apatite – Phosphorus JSC (VAPAC) decided to pay the remaining dividends of 2022 in cash with the rate of 100 percent. There are 25 million PAT shares in circulation, which means the company needed VND250 billion for the dividend payment campaign.
PAT is a subsidiary of Duc Giang Chemicals. It is estimated that Dao Huu Huyen, president of Duc Giang Chemicals, and his son Dao Huu Duy Anh will receive tens of billions of dong worth of dividends.
In August 2022, PAT paid dividends in cash with the rate of 100 percent.
Duc Giang Chemicals has  spent VND1.14 trillion to advance dividends in 2022 with the rate of 30 percent.
In the last two weeks of 2022, Sabeco (SAB), the largest Vietnamese brewer, announced payment of VND1.6 trillion worth of dividends. It will pay dividends in the second stage in March 2023.
Manh Ha