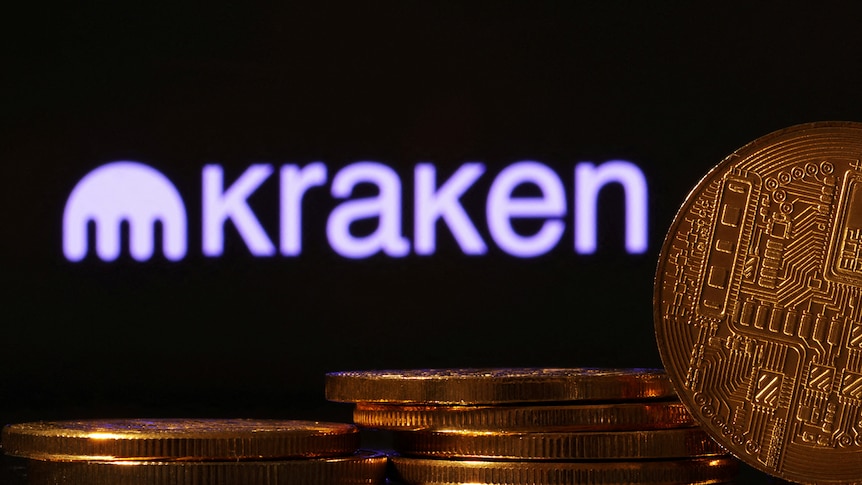 Crypto exchange Kraken has agreed to shut down its cryptocurrency staking service in the United States and pay $US30 million ($43 million) in penalties to settle charges that it failed to register the program, in a move that could cause headaches for platforms with similar offerings.
Key points:
Staking, put simply, is using crypto as a guarantee to be allowed to validate blockchain transactions for a return
Staking services are offered by major crypto exchanges like Kraken, but the SEC wants users to be given more information
Kraken has agreed to pay $US30 million in fines for failing to register its staking program, and will shut it down for US users
The settlement marks the the US Securities and Exchange Commission's (SEC) first crackdown on staking, a common service offered at both centralised and decentralised crypto exchanges, including most of the major exchanges such as Coinbase and Binance.
What is staking?
Staking is when the owner of a cryptocurrency puts some of that cryptocurrency on the line to allow their computer to take part in the process of validating blockchain transactions (ensuring nobody is spending the same digital money twice).
It applies to blockchain systems that use a "proof of stake" mechanism for validation, as opposed to the older, much more energy-intensive "proof of work" mechanism in which many computers across the world compete to be the fastest to solve a cryptographic equation.
The "staked" cryptocurrency acts as a guarantee that transactions validated by the owner are legitimate. If the transactions are found to be invalid, the cryptocurrency can be lost, or "slashed".
In exchange for validating transactions, owners who stake cryptocurrency are rewarded with newly created crypto assets.
Exchanges offer everyday customers who own cryptocurrency the chance to take part in this process without possessing extensive technical knowledge or dedicated equipment.
SEC wants users protected
In a video message posted to Twitter on Thursday, SEC chair Gary Gensler said most exchanges that offered staking services failed to provide their customers proper disclosures, such as how a company was protecting a user's staked assets.
Those providers should register their staking services with the SEC, he added.
"When a company or platform offers you these kinds of returns — whether they call their services 'lending', 'earn', 'rewards', 'APY', or 'staking' — that relationship should come with the protections of the federal securities laws," Mr Gensler said.
Kraken's website advertises that users can earn up to 20 per cent in annual yield if they pledge to stake their assets with the exchange for a certain period of time.
The San Francisco-based platform did not admit to or deny the allegations in the SEC's complaint.
In a statement, the company said its agreement to end its on-chain staking services would affect only US clients, and most assets enrolled in its program by US users would be automatically "unstaked" starting on Thursday.
In a series of tweets on Wednesday, Coinbase chief executive Brian Armstrong said a ban on staking for US retail customers would be "a terrible path for the US".
"We need to make sure that new technologies are encouraged to grow in the US, and not stifled by lack of clear rules," Mr Armstrong said.
Shares of Coinbase were down more than 14 per cent on Thursday.
Kraken in November agreed to pay $US362,000 to the US Treasury Department's Office of Foreign Assets Control to settle civil liability related to apparent violations of sanctions on Iran, and to invest an additional $US100,000 in certain sanctions compliance controls.
The company's incoming CEO told Reuters in September the exchange had no plans to register with the SEC as a market intermediary, or to delist crypto tokens that the regulator had labelled as securities.
The settlement on Thursday came a year after a subsidiary of crypto company BlockFi Inc agreed to pay $US100 million to the SEC and 32 states to settle charges in connection with a retail crypto lending product the company offered to nearly 600,000 investors.
As part of the settlement, BlockFi had planned to offer an alternative product expected to be the first crypto interest-bearing security registered with the SEC, but the New Jersey company filed for bankruptcy in November without launching the product.
Reuters, ABC