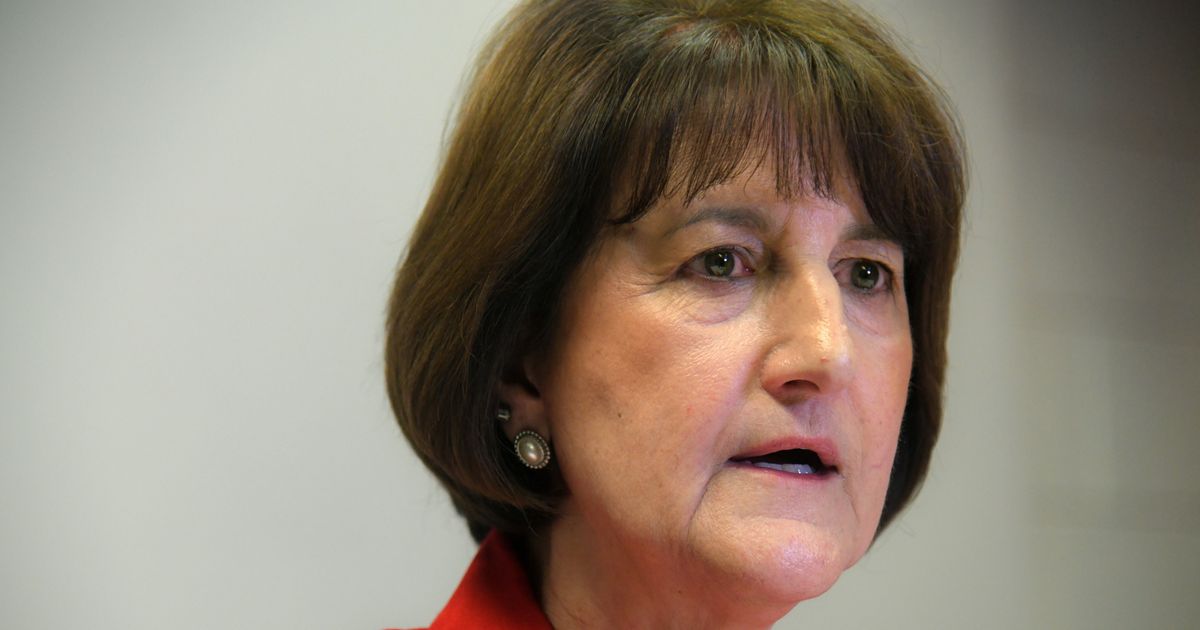 Lynn Hickey only has about 12 weeks remaining as Eastern Washington University's athletic director, and she plans to make the most of them.
A year-long overhaul to the Eagle Athletic Fund is nearly done. The department is finalizing the site for a new track. There is a new student nutrition center ready to be built. Camps will soon be up and running.
Those were just a handful of the items Hickey ticked through during a phone interview on Tuesday, one day after the university announced she is going to retire when her contract expires on April 30.
"We've got a lot of things on our plate," Hickey said, "and a lot of them are going to hit in the next two months."
Hickey characterized her departure as "bittersweet." It is hard, she said, to imagine not being in the middle of everything: working with staff and student-athletes, walking the building and saying "hello" to the people she sees. But, she said, it is right for her to step away.
"It's an appropriate thing to do right now for my family," she said. "I would have loved to work another year or two, but I really need to take care of my husband, and we need to get him closer to our daughter and son-in-law."
Bill and Lynn Hickey have been married for 49 years. But Bill's health started failing about a year ago, Lynn Hickey said, and their daughter is 2,000 miles away, in College Station, Texas.
"His base and my base – everything started in College Station," Hickey said. "For us to go back there will be good for us."
Hickey became Eastern Washington's athletic director in 2018 after holding the same position at the University of Texas, San Antonio, from 2000 to 2017. She began her career as a basketball coach at Kansas State, where her teams went 125-39 over five seasons, from 1979 to 1984.
That included a 26-6 record during the 1981-82 season, the first year the NCAA took ownership of women's athletics.
"I got to experience the whole culture change of being brought under the (NCAA Division I)," Hickey said. "… (We) made it to the Elite 8. We didn't even understand what we had done."
Kansas State inducted Hickey into its athletics Hall of Fame in 2004.
When Lynn Hickey accepted the women's basketball head coaching position at Texas A&M in 1984, Bill Hickey left his job as the baseball coach at Kansas State to take an assistant position on the staff at Texas A&M.
Hickey coached the basketball team for the next 10 seasons, and her last team there was its best: It went 23-8 in the 1993-94 season, reaching the Sweet 16 of the NCAA Tournament.
But by then their daughter was 3 years old, and Hickey said stepping away – from a team that had been led by a group of sophomores – was the right thing to do.
"The whole team was returning and I had to hand it to someone else," she said. "That was a very humbling experience, but I really think that was part of God's plan because it opened up a whole new world. I had never thought of being an athletic director. There were so few women ADs."
Hickey, who had already been working as an administrator while she was coaching, remained at Texas A&M in that role until she took the job at UTSA. At that point, Bill stepped away from coaching, and they moved to San Antonio.
The athletic department at UTSA had a budget of $1.8 million her first year there, Hickey said. They started football from scratch, a process that culminated in the team's first season, as a D-I independent, in 2011. Two years later it joined Conference USA, which it won in 2021 and 2022.
While in San Antonio, Hickey also served five years on the NCAA Division I Men's Basketball Committee, from 2007 to 2012.
By the time she left UTSA, its athletics budget had grown to $28, Hickey said.
During her time at Eastern, Hickey hired new coaches for the majority of the school's programs, including basketball coaches David Riley and Joddie Gleason.
"I've learned an incredible amount from her," said Riley, whose men's basketball team is currently on a 14-game winning streak. "She's a legend in the business, and what she's been able to accomplish and the barriers she's broken in the profession are just super impressive."
Gleason said Hickey has been "a pioneer for women in athletics" and, more proximately, a great boss.
"She just has a wealth of knowledge, dating back to her coaching and playing days and administration experience," Gleason said. "… A lot of administrators don't have coaching experience. I welcomed the idea that she's been in the trenches and she knows what it's all about."
Hickey's tenure at Eastern has included challenges, like leading a department through the COVID-19 pandemic and addressing calls from some at the university who have publicly questioned whether Eastern Washington ought to have a Division I program at all.
She pointed out three primary ways in which the athletic department serves as a unique way of engaging people with the campus: that it provides inexpensive entertainment for the community, that pride and tradition at the university are built around athletics, and that athletic success builds equity in a degree from the school.
And, she said, "we bring in really good students."
Hickey still has a lot to do at Eastern. She pointed out that for the first time in more than two years, the department has all its staff in place. There is more outreach and fundraising to be done.
It is going to be an enjoyable finish, she said, and she is excited to show the EWU fan base all that they have in place for the spring and summer – even if she won't be here to see all of it come to fruition.
"I've been very blessed. Forty-four years in Division I athletics," Hickey said. "I've had a lot of great opportunities and experiences. (Soon) I will be starting the next phase of my life and finding another way to connect."